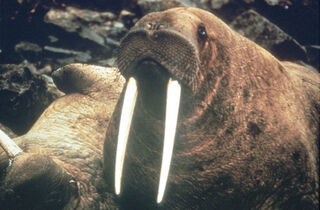 According to the December 15, 2007 Anchorage Daily News thousands of Pacific walruses were killed in stampedes when they crowded ashore in excessive numbers due to a lack of sea ice. The deaths occurred on the Russian side of the Bering Strait, west of Alaska.
Warm summer weather and ocean currents caused the ice to disappear in the Chuckchi Sea, which placed a hardship on walruses, who came ashore for an unusually long time. Walruses are vulnerable to stampedes if they are startled by a bear or some other disturbance.
Herds as large as 40,000 were observed at Point Shmidt. Approximately 3000-4000 out of a total population of 200,000 animals are estimated to have died this year on the Russian side of the Bering Strait.
Ad blocker interference detected!
Wikia is a free-to-use site that makes money from advertising. We have a modified experience for viewers using ad blockers

Wikia is not accessible if you've made further modifications. Remove the custom ad blocker rule(s) and the page will load as expected.