hello,if you want to learn about the alaska wolves read this :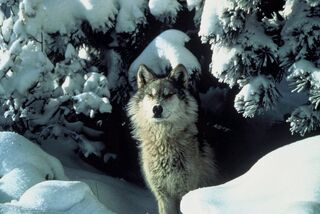 There were numerous wolf encounters in the Fairbanks North Star Borough and Anchorage during November and December 2007. Wolves were reported to be attacking and preying on pet dogs and sled dogs in the Fairbanks area. Wolves live throughout Alaska, however they are not commonly seen in residential areas.
According to this report Alaska state wildlife officials suspect that a pack of five or six wolves are responsible for the deaths of at least three dogs in the communities of Two Rivers and North Pole.
The State of Alaska Dept. of Fish and Game has set up a yahoo group, Fairbanks Area Wolf Reports which people can use to report wolf sightings in the Fairbanks area. A hotline at 1-907-459-7308 - is being maintained by the department and will be updated as new reports are verified.
Links to recent news reports:
Fairbanks Daily News Miner, 12-13-07, Living with wolves may be cool, but it also can be cruel
Tim Mowry, Fairbanks Daily News Miner, 12-12-07, Attacks evoke memories of canine carnage 30 years ago
Fairbanks Daily News Miner, 12-11-07 Wolf mania: No need to panic out there
Fairbanks Daily News Miner, 12-10-07 Community forum offers few solutions to recent wolf attacks
Fairbanks Daily News Miner, 12-08-07 Troubling wolf behavior reported
Anchorage Daily News, 12-12-07 Wolves kill 2 dogs in Anchorage-area attacks
Anchorage Daily News, 12-22-07 reports that "Anchorage has about 25 or 30 wolves in up to five packs, but the Elmendorf pack, which ranges from the Air Force base to the Palmer Hay Flats, is the only one suspected of attacking dogs during recent months."
An article by Doug Ohara outline wolf/human encounters in Alaska 'Ravenous Wolves Attack Missionary!'
General article about wolves from Alaska Fish and Game Wildlife Notebook Wolf
Wikipedia list of fatal wolf attacks
Alaska Dept. of Fish and Game Wolf control in Alaska

The above links are intended to serve as a resource for a more descriptive report on wolf/human encounters, as well as general information about wolves.